20 Phone Call Management Tips For Growing Businesses
Tips to Manage Calls, Train Staff, & Make The Most Out Of Your Phone System
Phone calls are important for a growing (or any) business. According to one survey…
Phone calls are peoples preferred method of contacting businesses, with over twice as many calls being made vs. contact by online forms (65% vs. 24%) or social media (66% vs. 22%).
A negative experience on the phone can cause 74% of people to take their business elsewhere.
58% of calls to a business are regarding a purchase of $100 or more. With 24% of calls regarding a purchase of $500 or more.(Source: Univox survey)
Jump to a section: ANALYTICS  |  EMPLOYEE TRAINING  |  BRANDING  |  TIME MANAGEMENT  |  PHONE ETIQUETTE
USE TECHNOLOGY TO YOUR ADVANTAGE
TIP 1 – Find out if a VoIP phone solution can improve your business and save you money. VoIP business phone systems allow you to receive calls on a desk phone, cell phone, or on a computer, so you can determine the best way to make and receive calls for your individual work style. VoIP is internet based, so you can use your business phone line anywhere you have access to the internet. It's also extremely scalable, and can grow with your business needs.
TIP 2 – Setup call forwarding. If you plan on being out of office, or don't have internet access that is ideal for using VoIP. Platforms like Wildix allow you to forward inbound calls to your cell phone, so you never miss a call to your business line.

TIP 3 – Get to know and understand the phone system you are using. VoIP phones usually have a tone of great features. But even older business class digital phones are often capable of more than most people know. Take the time to read the owner's manual for your phone, or watch tutorials online, so you know how to use everything from basic to advanced features on your phone.
USE ANALYTICS TO MAKE BETTER DECISIONS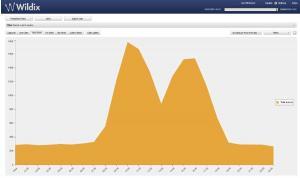 Analytical tools can help you understand and improve call management. Data gathered can help you…
identify when calls are most likely to come in
see where calls are coming from
learn what the call is about
see how long calls last
Gathering and reviewing a good-sized pool of data can help you make staffing decisions, improve employee training, and decide what communication tools your business needs to interact with customers.
There are a variety of ways to access and review analytical data about your inbound and outbound calls.
TIP 4 – Most VoIP platforms, like Wildix, Mitel or RingCentral, offer some level of analytical review for admins. If you're using a VoIP service, be sure to inquire about analytics. If you haven't looked into it, you may already have access to a wealth of useful information.
TIP 5 – If you're not using VoIP, you can use a service that integrates with your phone and website like CallRail. This service provides analytical data and even links with Google Analytics to help you understand how and where customers are finding your phone number.
TIP 6 – If your calls aren't frequent enough to dedicate time and resources into tracking, there's an easy way to get some limited information for free…Google My Business (GMB). If you set up GMB and included a phone number, you'll have some intel waiting in there for you. To access GMB analytics, go to google.com/business and login. Select your business location, and then on the left sidebar, select "Insights", then scroll down to Phone Calls. Although it's limited, you can adjust the data range, and then view calls based on day of week, or time of day(see image). Regularly checking this info may help you identify trends that can help you make better business decisions.
TRAIN YOUR EMPLOYEES
TIP 7 – Provide new employees with instructions for proper phone use and etiquette, along with scripts for them to use when answering a call and setting their voicemail message. It's also a good idea to create a list of common questions and answers to help them better handle calls right out of the gate. Also, make sure they have a direct point of contact for getting help when they need assistance, both with the phone equipment they are using, and with the business specific information they may need to help handle a call.
TIP 8 – Many business class VoIP phone services offer call intrusion. This tool allows managers and people training employees to listen in and handle calls along with new employees, until they are ready to fly solo. Call intrusion and call recording is also a great way for managers to periodically listen in on employees, so they can offer tips and guidance on how to handle calls better.
TIP 9 – Putting a caller on hold, or transferring a caller is generally accepted. Just make sure your employees know to inform the caller about what action is about to take place. And keep in mind that 53% of callers say that they would not be willing to stay on hold longer than five minutes(Source: Univox survey). Putting a caller on hold is also recommended before discussing the call with a colleague or manager, so the caller does not accidentally overhear information that they shouldn't.

TIP 10 – Make sure employees know how to respond to voicemails…specifically that they respond in a timely manner. Responding to messages as early as possible, even if it's just to let customers know that you got the message and will get back to them when you have an answer, lets them know that their business is important to you.
INCORPORATE BRANDING
Consistent branding is a key marketing strategy. And needless to say, you should use every free opportunity you can find to get your name in front of new or existing customers.
TIP 11 – Be sure to use your business name in greetings when answering the phone, and in your voicemail message. Ex: "You've reached Larry's Bike Shop, but we're probably out on a ride. If you leave a message, we'll return your call once we get back."

TIP 12 – If you have the ability to upload or edit your on-hold audio file, add messaging that helps you sell or promote your business. Messaging can include seasonal promos, upcoming sales, your business slogan or other info. Just be sure to use on-hold messaging as an additional tool in your marketing arsenal if you can.
MAKE USE OF YOUR TIME WHEN HANDLING CALLS
TIP 13 – If a caller is rambling or getting off topic, you can save time by helping them get to the point so you can wrap up the call. Although it's not polite to interrupt a caller, it can be effective to summarize the reason they called, and then present them with the actionable steps you will take. Ex: "Sounds like you need to order custom tires for your bike, here's what we can do about it…"
TIP 14 – Limit the callers need to repeat the reason for the call by transferring them to the correct person or department as early as possible.
TIP 15 – Take notes so you can review the call at a later time, and be sure to gather key info like name, number, and specifics about the call. If a customer calls about a specific part number, they might take their business elsewhere if you have to call them back to ask them what part they wanted…again.
TIP 16 – If you're busy trying to run your business, answering the phone frequently can become a distraction. Be sure to list your email as an optional means of contact any place you list your phone number. That way you can schedule time to sit down and respond to customer inquiries you receive by email in bulk.

TIP 17 – If calls are coming in non-stop, consider using an answering service. This can help take some of the easy-to-handle calls off you or your employees' plate, giving you more time to complete other tasks. It can also give your customers the ability to contact and speak with a representative of your business 24/7.
USE PROPER PHONE ETIQUETTE
TIP 18 – When answering calls, don't speak too loud or too soft, don't use slang, and don't speak with your mouth full.
TIP 19 – Don't put people on hold if you can avoid it. If you do 1) ask if it's okay with them, and 2) check in with them regularly to let them know what's going on and that you haven't forgotten about them, if the wait time is long. If the time spent on hold gets to be excessive, give callers the option of leaving their number so you can call back later.
TIP 20 – Be sure to consistently use a brief "hello" that includes your name and your business name. Ex: "Thank you for calling Larry's Bike Shop, this is Larry speaking." This could encourage people to cut right to the point of their call, instead of trying to figure out if they got the right business and are talking to the right person.